Every 39 seconds a cyberattack happens, 43% are targeting small and medium-sized enterprises, and in 2021 the average cost of a data breach was 3.9 million dollars. Cyberattacks have become so prevalent now it's not if you'll get attacked, but when and how much it will cost you.
One of our clients, a college in Iowa, suffered a cyberattack on their production environment that could have resulted in a 100% loss of data, but because we had an immutable backup in one of our IP Pathways' data centers, we were able to flip the switch and help them restore 100% of their data. Iowa counties are in a particularly difficult position of being a good steward of their residents' data and for this reason alone, are often a target of attack.
At IP Pathways, we look at security as a multi-layered solution and believe to truly protect your organization, you need more than just firewalls and antivirus software. Believe it or not, we are still meeting organizations that think those two elements are enough to keep them safe.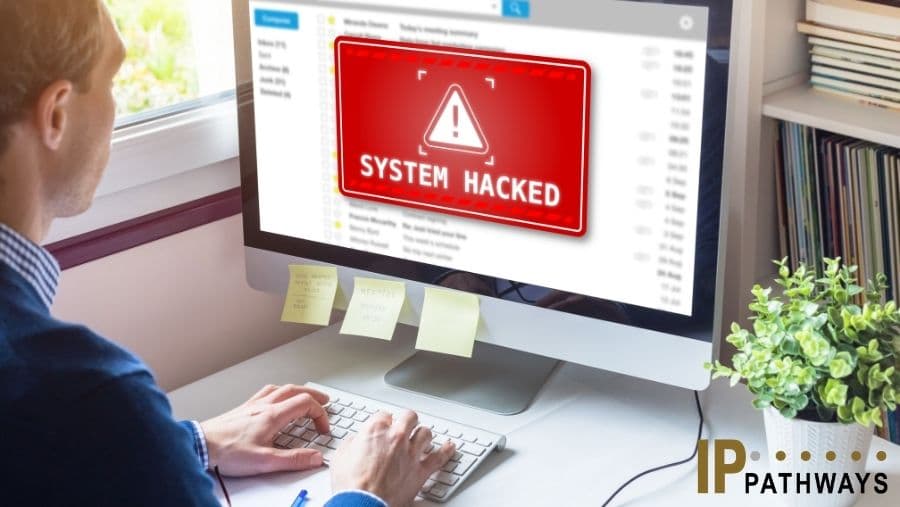 Firewalls & Backup
Firewalls and a good offsite backup solution are certainly our first recommended line of defense. As we began to dig deeper into the existing security protocols of the organizations we serve, the most common gaping hole we find is a fully executable and annually tested disaster and recovery plan. Most commonly we're finding this strategy is an organization's goal, but it often falls through the cracks when staffing shortages and budget considerations become more important.
We see many organizations that do perform some penetration testing but just not frequently enough. It's imperative that as you're continuing to make changes to your environment, you're also taking the time to invest in all the tests required to ensure you're going to be safe before the next attack.
DNS Security
With this cyber security foundation in place, you can layer on additional software and network protections. One important function that people are happily investing in is DNS security. It's a solution that allows you to block your users from going to malicious sites ultimately reducing your risk.
Multi-Factor Authentication
Next, having a fully managed multi-factor authentication (MFA) solution in place can stop as many as 98% of cyberattacks in their tracks. Many cyber insurance companies are beginning to require MFA or your premiums will skyrocket, or you may not be insurable at all.
Mobile Device Management
Ensuring that all the personal devices your employees are bringing into your organization or network are secure is another critical component of a layered security strategy. This threat is particularly important to organizations with hybrid and remote workers.
Managed Security and Threat Analytics
Having a trusted partner to monitor your environment who can instantly respond to suspicious events is vital protection and worth the investment. Attackers are only getting smarter and more sophisticated requiring your cybersecurity solutions to rise to meet the challenge of stronger and harder to detect threats. 
End User Education
After addressing your environment, you need to focus on end users' education. Phishing attacks are on the rise and all it takes is one user on the network clicking a link in an email to compromise your entire system. We can test your end-users, grade them and re-test if they continue to fail. This identifies weaknesses in your users before a hacker exploits them.
At IP Pathways we continue to evaluate and validate technologies to ensure our clients have access to the latest security tools. No cyber security product or service can guarantee you won't get attacked, but we can help you find the right mix of products and technologies to keep you safer and more protected on every layer of your organization.
One of our biggest strengths is helping your organization ensure your technology investments meet your business objectives. More than just selling you hardware or software, our technology and cloud consultants become part of your team fighting cyberattacks now and in the future.
IP Pathways is headquartered in Des Moines, with offices in Kansas City and Omaha, data centers in Des Moines and Omaha, and cloud infrastructure available through AdaptiveCloud.™ We're here to help you conquer and thrive in the ever-evolving world of cybersecurity. We've been consulting with organizations for the last fourteen years and welcome the opportunity to work through your challenges.
We are proud to be part of the 17th Annual ISAC Scholarship Golf Fundraiser event and pleased to contribute to the Scholarship event. Investing in future Iowa leaders is an important part of our legacy.